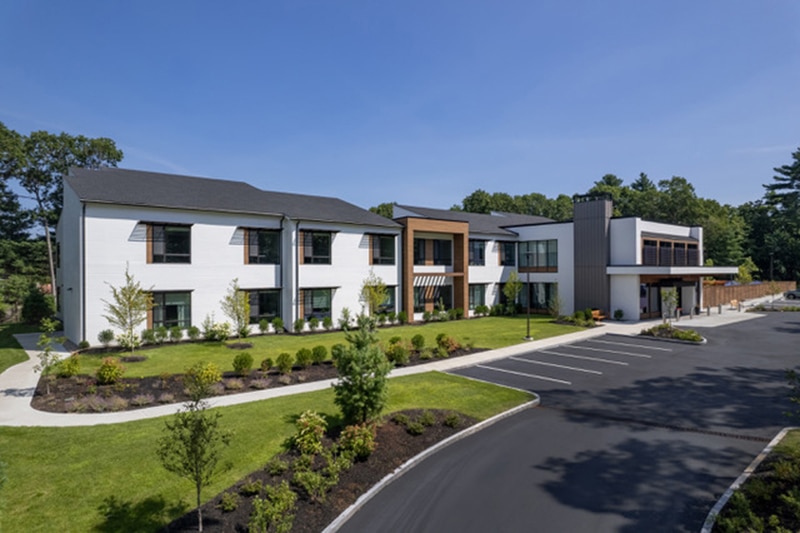 NORWELL — New England Real Estate Journal, a leading source of commercial real estate news in the New England region, recently featured The Cordwainer Memory Care in its Construction Design & Engineering section. The NEREJ is a respected source of industry information for professionals and businesses involved in the real estate industry, including real estate developers, brokers, investors, architects, contractors, and other stakeholders in the commercial real estate market.
Designed by Boston-based The Architectural Team and developer and owner-operator Anthemion Senior Lifestyles, The Cordwainer is a 54-suite memory care assisted living community notable for its learning-based programming and its use of biophilia, an approach to architecture and interiors that strives to enhance human wellbeing through greater connection to the natural world.
From the NREJ article, TAT's design team explained: "The Cordwainer reflects a creative focus, using an evidence-based approach that recognizes how light can have a significant impact on dementia by improving mood and reducing depression and psychoactive symptoms common to the disease. The resulting interior spaces provide a bright and airy atmosphere that uses natural materials like wood and living moss walls, and prioritizes thoughtfully modulated daylight – all integrated within an environment that is highly supportive and practical for residents." 
About The Cordwainer
The Cordwainer opened in December at 555 Cordwainer Drive in Norwell. The community includes 54 suites for residents living with dementia and features unique and innovative programming, "The Learned Environment℠," designed to stimulate the brain and foster learning through music, art, and foreign language exploration. The Cordwainer is the first U.S. memory care community to incorporate the Tovertafel, an innovative light projection system created for seniors living with dementia that is proven to be beneficial for physical, cognitive, social, and sensory well-being. Founders Tamilyn and Bodo Liesenfeld researched dementia care in Europe for three years prior to developing the community and incorporating much of what they learned in community design and resident programming.