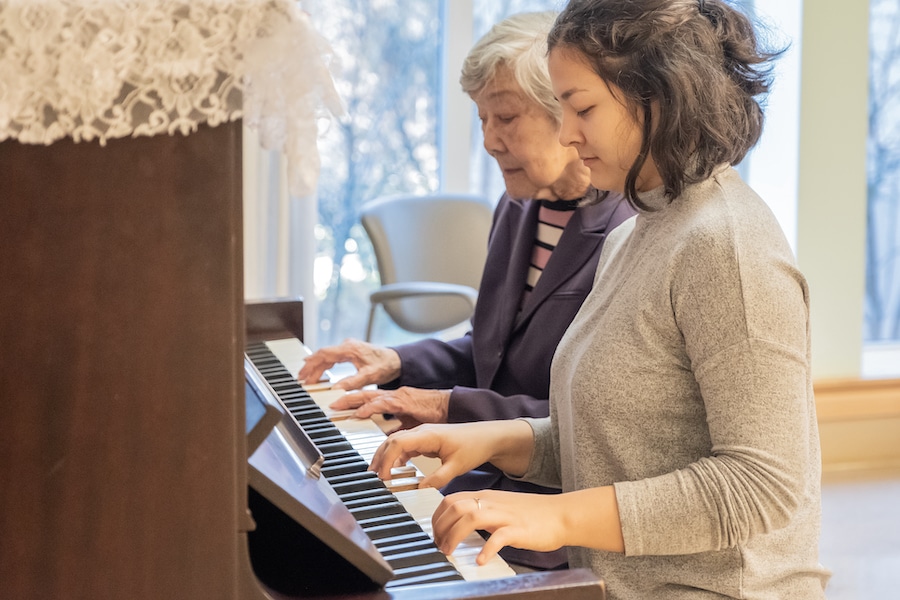 Music therapy can significantly reduce the most severe symptoms of dementia, apathy and agitation. These are the findings of an Oxford University Press published pilot study conducted over a 14-week period in memory care communities about the effectiveness of music-based therapies for people clinically diagnosed with dementia. The study participants were men and women, an average age of 81, and able to verbally express a musical preference. Researchers focused on whether music-based therapies could have any significant effect on the most common behavioral and psychological symptoms of dementia, apathy, agitation and depression.
The Important Findings
The study concluded that "agitation and apathy decreased significantly more with high usage of music therapy" when compared with low usage. The study also concluded the use of music therapy for people with dementia, "can help improve the perceived quality of life and well-being and may delay the progress of the disorder."
A similar study confirmed these findings and recommended, "care homes should offer more music activities and music therapy for people with various stages of dementia" and "implement music questionnaires in the patient's file regarding musical preferences."
People living with impaired memory, thinking and judgment can oftentimes remember the lyrics from a childhood song. Research suggests, "long-term music memory is not located in the hippocampal area (the area of the brain damaged by dementia), but in the supplementary motor cortex, which is responsible for complex motor functions." This lends support to the increased effectiveness of music therapy programs that involve learning to play music on an instrument in addition to passively listening to it.
Interestingly, in the four-week follow-up period after the study ended, researchers noted that all participants and their caregivers interviewed reported a continued decline in agitation and a perceived better quality of life.
Music for the Mind at The Cordwainer
The Cordwainer's leadership team reviews studies relating to therapies shown to help reduce the most serious and common symptoms of dementia like apathy, agitation and anxiety to incorporate the findings into our Learned Environment™ resident programs. We offer residents and their families a resource library with the latest studies and best practices in dementia care and our Expert Corner offers current tips, techniques and more on dementia care.
For more information, you can read the full study here and contact us via our website or call 781-544-2777 if you have any questions about dementia or memory care for a loved one.