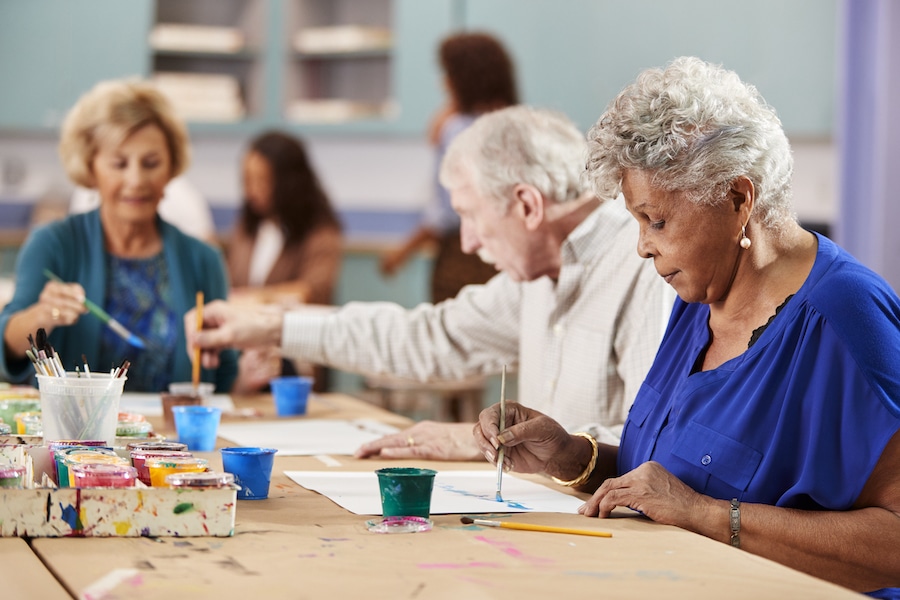 By Shari Flight
A question often asked by the caregivers of a person living with dementia is "how can I help my loved one's dementia from progressing?" Unfortunately, disease causing dementias are progressive and the person living with it will continue to decline both cognitively and physically over time. The rate of progression is different for everyone, though, and this is where the person living with dementia can have a bit more control over the rate of their progression.
It is so important for all of us to live a healthy lifestyle, but it is even more important for the person living with dementia. Choosing a healthy diet such as the Mediterranean diet, engaging in social activities or gatherings, exercising both cognitively and physically a few time a week, and learning something new have all been proven to reduce the risk of dementia or slow the progression.
At The Cordwainer, the main goal of our Memory Care Assisted Living Community is to give our residents an environment that not only provides comfort and support for those living with dementia but also engages residents to live life with purpose and fulfillment. With this goal in mind, we have created our unique dementia therapies program The Learned Environment℠. This program provides our residents with the opportunity to participate in regularly scheduled classes focused on keeping their brain stimulated with the introduction of past and new experiences focused on music, art, and foreign language. We believe that it is never too late to experience the joy of learning.
A 2014 report by NPR highlighted a study completed through the University of Texas at Dallas. In this study, 200 older adults were randomly assigned to different activities for three months. Throughout the three months, the older adults underwent memory testing to allow researchers to gauge the cognitive benefits of the skills that were being learned. At the end of the study, and even a year after the study's completion, researchers were able to report that those who were in the group that learned something new had an improvement in their memory. Learning these new skills strengthens the connections between parts of your brain. Partaking in challenging activities can strengthen entire networks in the brain, according to this report.
The Cordwainer is passionate about taking nonpharmacological approaches to dementia care. Each of our programs will be tailored to meet the resident where they are at in their dementia journey by focusing on what they still can do. This will allow them to stay as independent as possible and engage in programs that they and their loved ones would have never thought possible.
Shari Flight is The Cordwainer's Director of Community Relations. She facilitates The Cordwainer memory care support group each month.