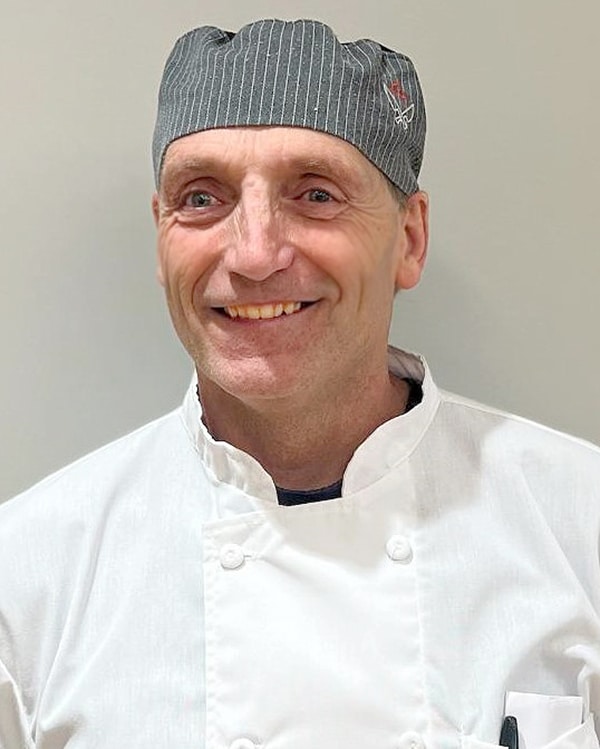 Sean Robinson is the culinary visionary behind the dining experiences at The Cordwainer Memory Care community. With a diverse background that spans Lake Tahoe to the East Coast, Sean shared his journey to becoming an esteemed chef at The Cordwainer in Norwell.
After successfully opening three restaurants for an entrepreneur, he found himself as an executive chef, working tirelessly 6-7 days a week and missing out on precious family time. However, an opportunity in senior living offered him a chance for a more balanced life, and it was a decision that would change his passion for hospitality forever.
But Sean didn't start there; he first made a name for himself by applying for a director position at a different senior living community and turning it around to earn his reputation for excellence. "Just because it's senior living doesn't mean you can't create fantastic food and a restaurant-like experience," he shares.
In a program he co-developed called Dining with Dignity, Sean emphasizes the proper way to serve people, addressing the unique needs of seniors. From the aroma of pan-seared Mediterranean-style salmon to the joy of a simple pizza night, Sean and his team ensure every meal is a memorable experience for residents. Below, some of his valuable dining tips for serving seniors, in particular those living with dementia.
1. Hydration is key: Sean emphasizes the importance of keeping residents well-hydrated by providing each table with a fresh glass of water before they even sit down.
2. Homemade bread: One of the secrets to The Cordwainer's exceptional dining experience is Sean's passion for making the "Hawaiian roll" that residents absolutely love, and the aroma of this special bread has become a sensory trend in the community.
3. Sensory dining: The Cordwainer enhances dining with a musical backdrop, starting the day with Bach Brandenburg concertos and transitioning to classics like Dean Martin and Frank Sinatra for lunch and dinner. This sensory experience is particularly soothing for individuals living with dementia, and dovetails with the overall sensory experience The Cordwainer offers its residents with features such as the indoor and outdoor sensory gardens, the natural light throughout, and more.
4. Family input: Whether it's accommodating a resident's preference for a particular dish or learning about their likes and dislikes, Sean values feedback and the insights family members provide.
5. Hospitality: As someone who has worked in many high-end eateries, Sean's team is focused on hospitality. An example includes servers kneeling tableside to present menu options to residents at eye level. Additionally desserts made in-house add a sweet finale to the sensory dining experience. 
Despite all of this, Sean is quick to share the credit with the dedicated culinary staff at The Cordwainer. He considers it the best team he's ever had, and their unwavering commitment to residents is evident. In his own words, "They are always ready to say, let me hug you, and are willing to bend over backwards to ensure residents' happiness and well-being."
Where Taste Meets Artistry
Chef Matt, another talented and young chef at The Cordwainer, continues to astound his team and delight his "customers." As Sean puts it, "People eat with their eyes, and creating visually appealing dishes for our residents goes a long way."
Just peek at some of Chef Matt's remarkable creations:
Pan-seared Chicken Breast with Avocado Aioli, Warm Fruit Relish, and Rice
Oven-roasted Chicken with Grilled Vegetable Medley and Roasted White Potato
Seafood Salad Roll with Pasta Salad and Pickled Beets
Cheese Ravioli with Green Beans and Fried Cauliflower
Shepherd's Pie
The holidays are an especially festive time at The Cordwainer as halls are decorated and seasonal items like lemon cake with fresh fruit and gingerbread are served. For visitors touring The Cordwainer, sweet homemade fudge is gifted to indulge in.
Chef Sean, along with his staffs' dedication to creating a memorable dining experience for the residents at The Cordwainer, goes beyond serving delicious food. He infuses warmth, care, and a sense of community into every meal, so all residents feel cherished during mealtime.
Sean has 35 years of experience in the food service industry and holds a degree in Culinary Arts from Johnson and Wales University. He is also ServSafe and Allergen Awareness certified and a member of the American Culinary Federation. He has written dining standards and practices guidelines for senior living communities and co-developed a Dining with Dignity program for assisted living and memory care communities to ensure residents can enjoy a nutrient-rich and varied diet even with special dietary needs.
Interested in learning more about our culinary program? Schedule a tour and our team will be more than happy to share our menus and nutritional approach to caring for our residents.