You have been involved with the design and build of memory care communities in the past. Tell us more.
Yes, I previously worked for several mid-sized healthcare companies (EPOCH Senior Living, Benchmark Senior Living, and Wingate Healthcare) where I was involved with the ground-up development of independent living, assisted living, and memory care communities.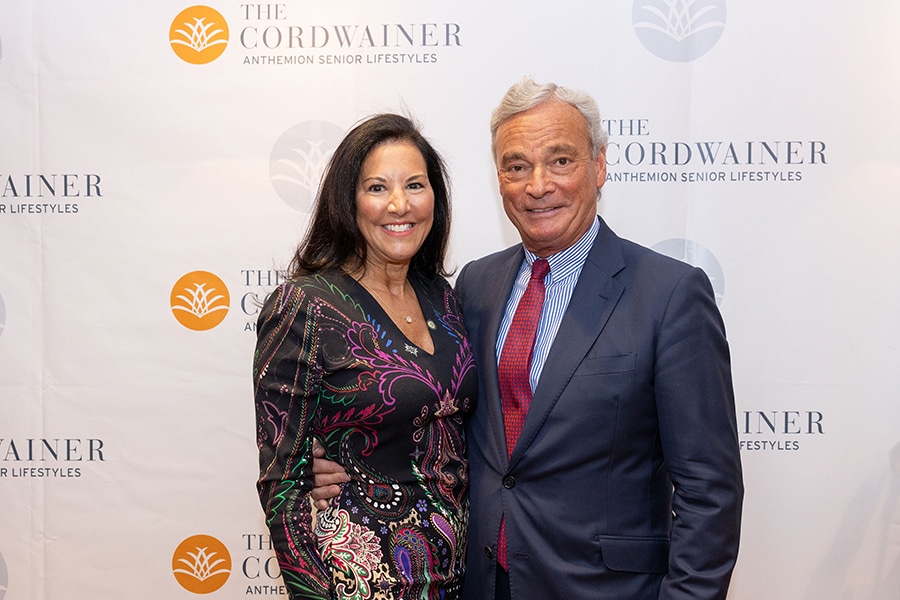 You saw areas that needed improvement?
Based on my experience, most assisted living communities are planned to maximize the number of rental apartments without giving full thought to the programming space. This is why most assisted living communities offer similar standard comforts, like a living room or a library, but are not necessarily designed for special programming. I always wanted to see a purpose-built memory care assisted living community that provided unique spaces for resident engagement and therapeutic services.
What did you do?
Based on three years of in-depth research into building designs, the latest dementia and memory care therapies and technologies, we developed a blueprint for The Cordwainer building centered around our unique programming. For example, our rejuvenation room is a "zen-type" of room with reclining chairs and special artwork. It is a space meant for residents who may not do well with certain more stimulating activities. In the rejuvenation room, residents can engage in a calm environment where we read poetry, use aroma therapy, and give hand massages. 
What are examples of design decisions you made to improve health outcomes, such as how residents experience care, and provider/staff satisfaction and performance in your new community?
We created an assisted living community designed to provide a comfortable and serene setting for residents, families, and staff. The indoor sensory garden, the living wall in the lobby, and the oversized windows that provide an abundance of natural light throughout the building, all have a positive impact on both the residents and staff moods, and this makes a difference in how they feel. Our enhanced program space provides a change in scenery for residents and staff, versus being confined to limited areas for activities. The design of our building allows for plenty of walking space, contributing to good health for all. In most assisted living communities there is a separate wing for memory care, which is typically more limited and confining. At The Cordwainer, we've literally reimagined how the setting and programming can be more harmonious and effective – our entire building is dedicated to memory care residents.
Let's discuss how space is improved for those with dementia. Tell us about the spaces dedicated to family visits, and why this is both important, and unique.
Most memory care apartments are studios and therefore family members have limited space to be alone with their loved ones. Our family suite is an area that family visitors can use privately to spend an entire day with their loved one while watching TV, cooking a meal, or playing games. Our family suite has a full kitchen, dining room, and living room.
At The Cordwainer, we have thoughtfully designed purposeful spaces to support our residents. We have so much more to offer than traditional assisted living.
Another example of how we have designed the space to engage residents is by installing The Tovertafel system, or "magic table," in one of the resident common areas. This innovative system projects a variety of games for residents to play with other residents, staff, and family members, including their grandchildren. We recommend checking out the Tovertafel light projection system benefits here.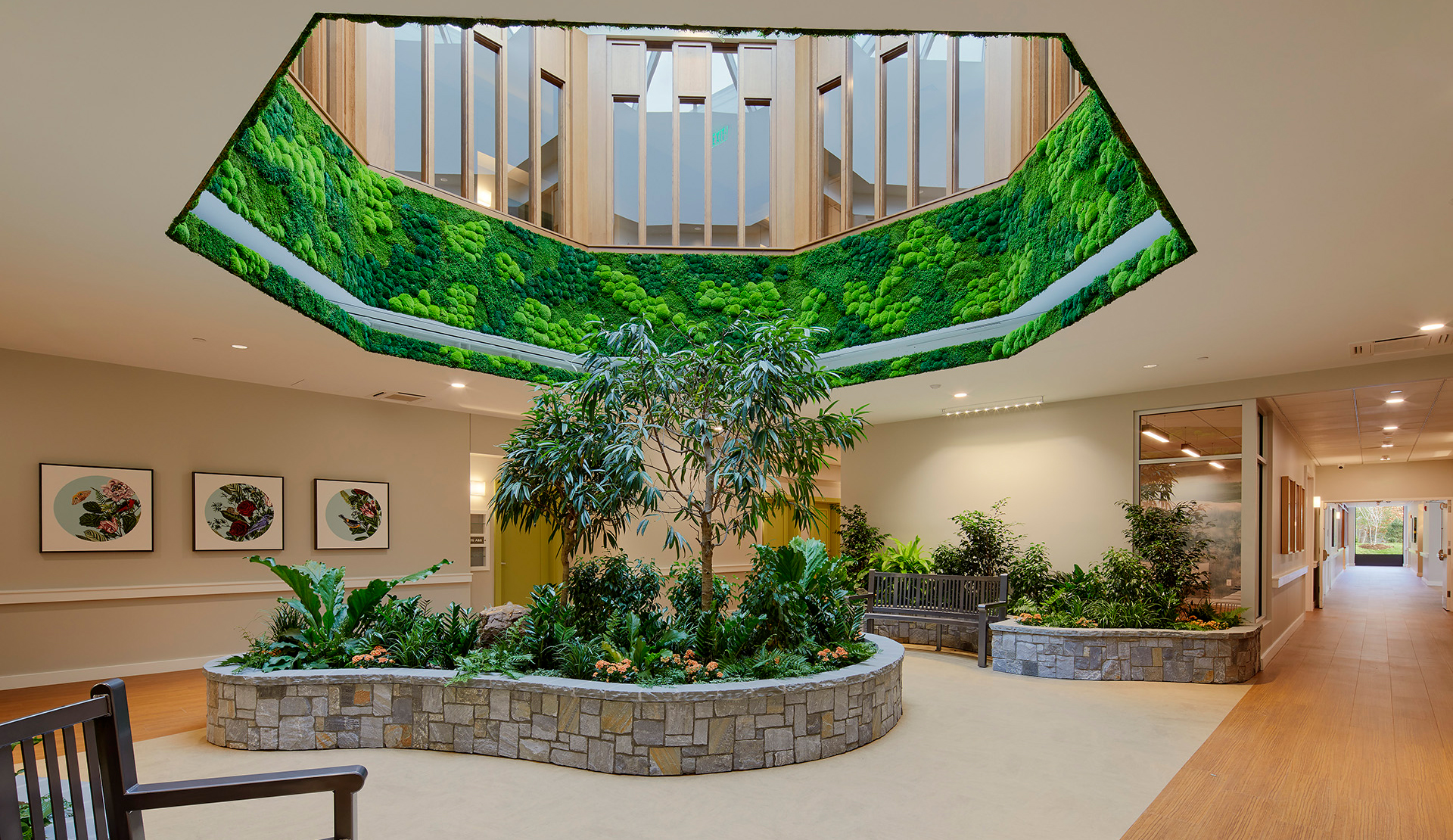 There is evidence that nature and lighting have positive effects on those living with dementia. Tell us how you have addressed this in a winter climate location.
The interior sensory garden, at the center of the building, was designed to stimulate the five senses. This area features a two-story atrium with an 18-foot skylight providing natural light with trees, plants and flowers. The boulder water feature and speakers playing sounds of birds chirping provides residents with a serene setting in which to relax all year round. We also included a porch/sunroom on the south side of the building. This is one of our residents' favorite places to relax during the day.
Talk about some of the choices of art throughout the building and how it provides satisfaction for residents and staff.
The artwork exhibited throughout The Cordwainer was specifically chosen to provide residents with path-finding opportunities while offering reminiscent and interactive expressions such as our wall-hung xylophone, wooden world maps, and textural art. For the staff, we included a Caribbean theme in the staff lounge that they enjoy.
You have invested in the advancement of the field of healthcare design. Since this is the first memory care community with your own company, share some of the design choices that you have made that other communities can use to improve resident care going forward.
The building design stems from the residents' needs who will live there and the programming being offered. By focusing on daily experiences to promote an engaging and purposeful life, operators and developers can make a tremendous difference in how elders live the rest of their lives while providing staff with a fulfilling work experience. This type of environment will naturally attract staff that is dedicated to making a difference in people's lives. I am proud to hear feedback from our staff, families, and residents about the difference The Cordwainer makes in their lives, and I believe that is worth the investment.
You are a role model for other companies building memory care communities. What are some examples from previous work?
I believe in using innovation to create a better world. If you see something new or different and imagine how that can be used or applied to what you do, then you create opportunities to set yourself apart. Take technology for example. Back in my career as Chief Operating Officer at Wingate Healthcare, I incorporated virtual reality (VR) into our training and programming. At our management leadership retreats, we used VR experiences that simulated how people with dementia experience confusion and to take a journey through a brain with Alzheimer's disease which explained the changes that occur as the disease progresses. For our residents, we piloted a program deploying VR headsets to several nursing homes and assisted living communities and trained staff on introducing residents to virtual reality experiences such as flying in a hot air balloon, attending an orchestra performance, and taking trips through Google maps to foreign countries and even the neighborhoods in which they grew up. Being innovative and creative is a passion of mine.
You have been an active voice in the industry. Share an example of you being a spokesperson or advocate.
I have had various opportunities to speak and present at several industry conferences on the design and building of senior housing and memory care. I support collaboration, and by sharing ideas and experiences about how we design and build spaces for our elders to live, we can make a difference in not only their lives but the lives of their families and the staff who do the great work of delivering care. The Cordwainer is truly a breakthrough in what memory care assisted living can and should be. The Cordwainer is "Memory Care Reimagined."
To experience The Cordwainer in person, please contact us for a personalized tour by calling 781-544-2777 or visiting our website.