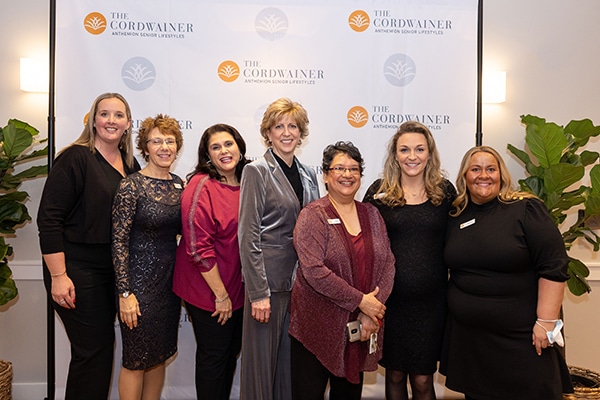 The Cordwainer Memory Care Assisted Living, located at 555 Cordwainer Drive, hosted a grand opening celebration Jan. 26 for local Norwell officials, professional caregivers, and many of the individuals involved in designing and building this new and unique community. Brief remarks were made by Tamilyn and Bodo Liesenfeld, founders of The Cordwainer, Maria Lastoria, the community's executive director, and Dr. Michael Alosco, a licensed clinical neuropsychologist and associate professor at Boston University's Research CTE Center.
"Memory care research continues to make promising advances, but it is environments like The Cordwainer that allow individuals living with Alzheimer's and other dementias to live comfortably and safely," said Dr. Alosco.
The Cordwainer, developed by Anthemion Senior Lifestyles, opened in December. The community includes 54 suites for residents living with dementia and features unique programming, "The Learned Environment℠," designed to stimulate the brain and foster learning through music, art, and foreign language exploration. The Cordwainer is one of the first U.S. memory care communities to incorporate Tovertafel, an innovative light projection system created for seniors living with dementia that is proven to be effective at physical, cognitive, social and sensory levels.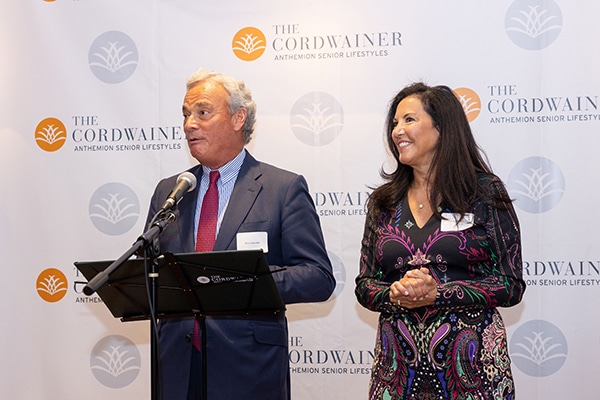 Bodo Liesenfeld thanked local town officials as well as the professional building and design professionals who brought the vision for The Cordwainer to fruition. "When we first visited this thickly wooded property, we thought this was a perfect setting to create a community that blended with local nature," he said. The community is entirely dedicated to memory care, and it drew on years of research from Europe and around the country, resulting in extensive use of natural light, spacious commons areas, natural textures and colors throughout, and programming that is therapeutic.
Tamilyn Liesenfeld thanked Maria Lastoria and her team for bringing such depth, experience and innovation to bear.
Community amenities at The Cordwainer include all-inclusive pricing, spacious living, dining and activity rooms, indoor and outdoor sensory gardens, wood workshop, barbershop and salon, a private suite for families, and performance and rejuvenation centers. Services include an onsite executive chef, nursing and personal care assistants, wellness programs, laundry and housekeeping, medication management, transportation and more. In addition, the community offers modern technologies to support resident engagement, safety and health.