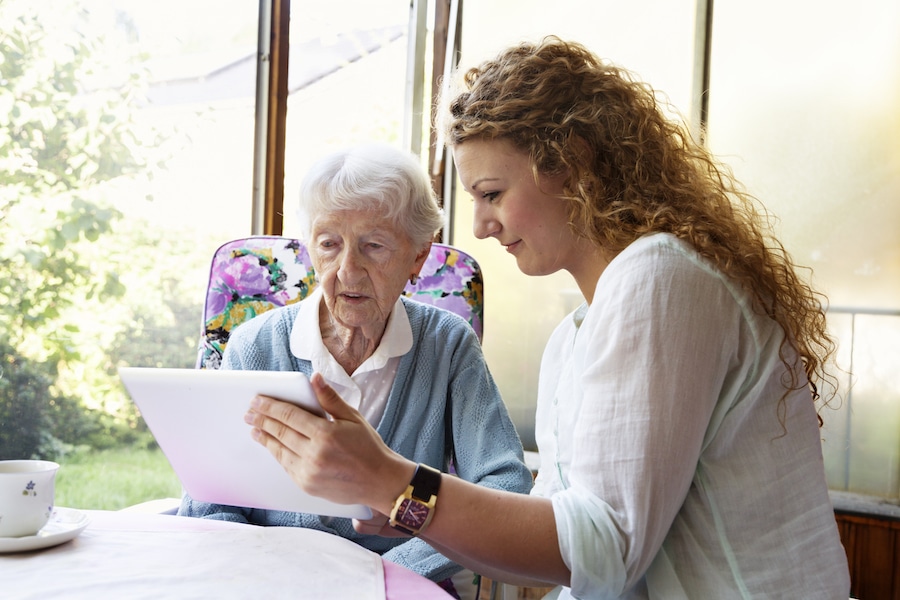 Providing care at home for a loved one living with Alzheimer's disease or other forms of dementia can be both rewarding and stressful. It's certainly rewarding to be valued and helpful, but being an around the clock caregiver can take a toll on the caregiver. In fact, researchers suggest that without a break, the rigors of daily caregiving can wear you down to the point where your health is affected. As any family member caring for a loved one with dementia knows, there are very few moments of downtime to relax.
Respite care at an assisted living community is a short-term stay designed to give a break to the caregiver and to help the senior loved one refresh and rejuvenate. Caregivers benefit by getting time to look after their own needs and other responsibilities.
Whether you are planning a trip overseas or to Cape Cod, recovering from an injury, needing to tend to other relationships, attending to appointments, or simply needing a break from the responsibilities of caring for a loved one with dementia, a respite stay in an assisted living community that offers memory care services can help.
The Benefits of Respite Care
The benefits of respite care in an assisted living community dedicated to caring for individuals living with dementia include:
Allows time for rest and recuperation. Caring for a loved one can be a highly demanding and challenging responsibility that no one should have to go through alone or without a break.
Creates a chance to tend to personal needs.
Relieves pressure and stress.
Helps to prevent social isolation – for both you the caregiver and your loved one.
Allows families to "test drive" care in an assisted living community for their loved one.
Provides new stimulation. Everyone needs the stimulation of multiple relationships, including you as the caregiver and your loved one as the care recipient.
Respite care can provide a fresh set of eyes. While you know your loved one best, our dementia care experts may provide insights and tips for caregiving that may assist you after the respite stay.
Overcoming Barriers to Respite Care
We often hear from families that they aren't ready to transition their loved one to a full-time care setting, but they know deep down they need temporary relief. Respite care can provide a bridge to eventual care in a community as your loved one becomes familiar with the community, fellow residents, and staff.
A respite stay also provides your loved one with the freedom to enjoy the many services and amenities a community offers. At The Cordwainer, the list is long and includes a fully furnished suite with three nutritious meals and snacks served daily, access to a beauty salon, barbershop, wood workshop, performance and rejuvenation centers, our Tovertafel projection game system, an exercise room with fitness equipment, sensory gardens, and daily activities and events centered around our unique programming, The Learned EnvironmentSM. This innovative programming for residents explores art, music, and foreign languages.
Exploring Respite Care
While it may seem obvious to friends and family—and even yourself—that you desperately need a break from the physical and emotional demands of caregiving, seeking help is not always easy. When you are the primary caregiver for someone, handing over the responsibility for their care can seem daunting. But it's important to remember that respite care is an integral part of the caregiving process, not just for you, but also for the person you are caring for and the rest of your family. Remember, it's not selfish to need time for yourself. Even the healthiest families can be severely stressed by ongoing care, and the division of labor is frequently lopsided.
Planning, selection, and choice are key to your respite care experience. Understanding your needs, selecting the right type of respite care, and choosing the right provider can ease the stress of handing over the reins of your loved one's care. Doing your homework and seeking references and referrals from providers can help set your mind at ease. Experts remind us, caregivers needing a break or support should never feel guilty. Respite care offers the primary caregiver the chance to de-stress, restore their physical and mental energy, and keep their own life in balance.
The Cordwainer is purpose-built for individuals living with Alzheimer's disease and other dementias. Respite stays at the community are part of our ongoing support for families. We pride ourselves on being a valued resource for families and are happy to talk to you about how a respite stay could work for you and your loved one. If you are interested in arranging a respite stay at The Cordwainer for your loved one, or simply want more information on what a respite stay involves, call 781-544-2777.