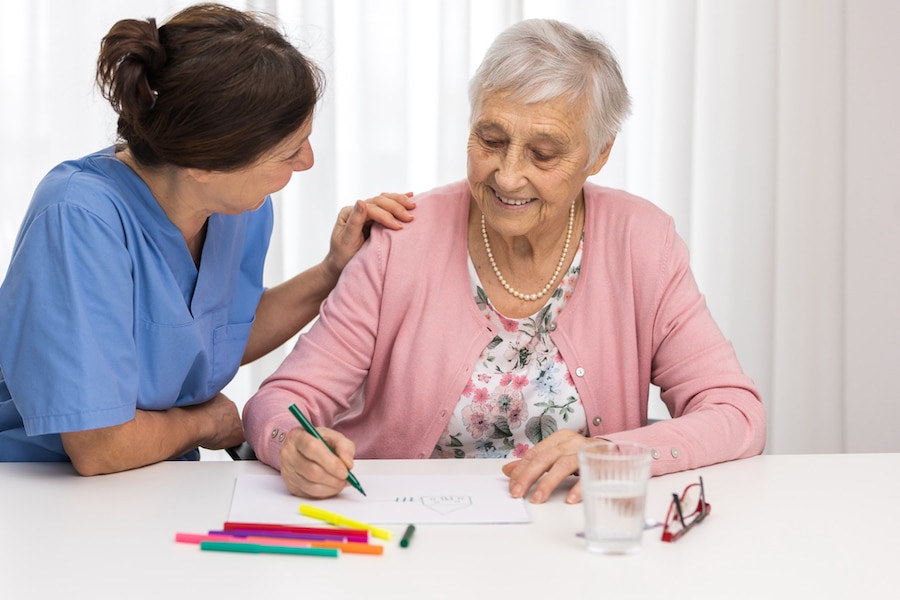 Complementary and alternative therapies could greatly benefit people living with dementia more than medication alone. Current research is exploring the use of non-drug therapies in combination with medication to alleviate the behavioral and psychological symptoms of dementia (also known as BPSD), for better patient care by reducing the severity of the symptoms they experience and potentially slow the progression of cognitive decline.
A study published by Psychiatrist.com looked at the effectiveness of treatment for the most severe BPSD, aggression, screaming, wandering, food refusal, and self-harm, using a combination of medication and complementary and alternative therapies and just medication with no additional non-drug therapies. Researchers noted an improvement in symptoms for all the patients in the study but those who received medication and complementary and alternative therapies showed the most long-term improvement with a significant decrease in the behaviors associated with dementia. Interestingly, the patients who only received complementary and alternative therapies with no other medication also showed a decrease in the severity and frequency of their symptoms of dementia, leading researchers to conclude that non-medication treatment for the BPSD warrants further study.
At the Cordwainer we stay knowledgeable about the latest research regarding best care practices for people living with Alzheimer's and other dementias. Our specially trained team knows how to address the varied symptoms of dementia, and we offer programs that include complementary and alternative therapies to reduce the most severe symptoms thorough our Learned Environment™ curriculum with music and art therapy and foreign language study.
We also maintain a robust activities schedule that helps residents maintain their physical health, improve motor skills and enhance memory. In the art program residents create memory books and Movement for the Mind is our exercise program that incorporate music and movement to improve balance and dexterity. We also host live musical performances, dance recitals, movie nights and speakers in the Performance Center to encourage socialization and engagement within the community to prevent boredom, isolation and depression, common side effects of dementia.
You can read the full study here, and if you would like to learn more about how The Cordwainer does Memory Care Reimagined please visit our website. You will find resources and care tips for a loved one with dementia in our Experts Corner and information on the many community events we host. Our leadership team of dementia-care trained experts can be reached at 781-544-2777 and are happy to share their knowledge with anyone caring for a spouse or family member with Alzheimer's or dementia.