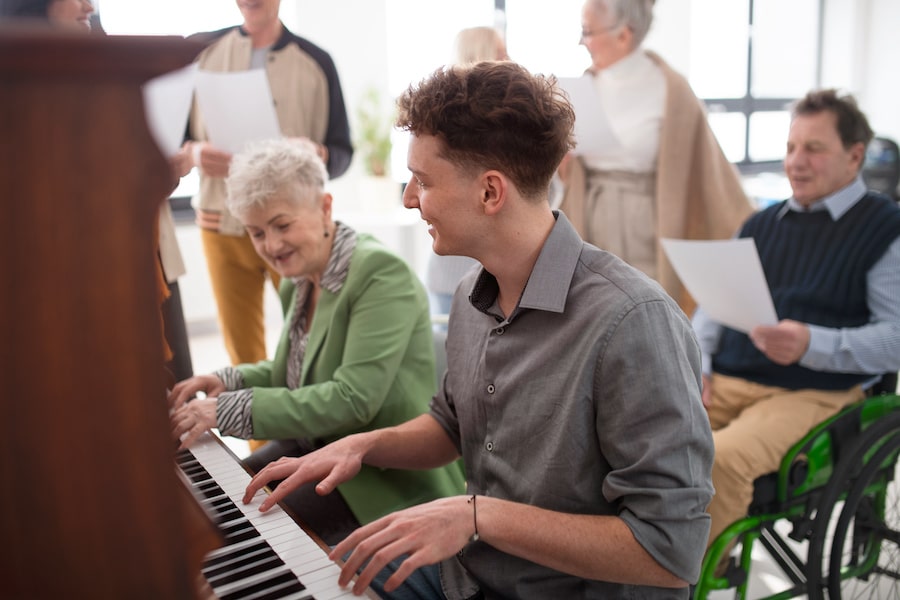 The Cordwainer in Norwell was founded on the belief and research that a diagnosis of Alzheimer's or dementia does not mean the end of living a happy and fulfilling life. While it is true symptoms will progress limiting the individual's abilities to communicate, there are many proven non-pharmacological therapies that can help people with memory loss stay engaged with their surroundings and friends and family for as long as possible. Keeping the brain stimulated and active has been shown to slow the progression of symptoms and enrich the lives of those living with memory impairment. The Cordwainer's The Learned Environment℠ programming offers this stimulation through music, art, and foreign language exploration because we know it is never too late to experience the joy of learning and the many health benefits it provides.
Music for the Mind
A study conducted by Bernard Ross of the Baycrest Centre for Geriatric Care in Toronto, Canada found that learning to play a musical instrument alters brain waves in a way that improves a person's listening and hearing skills for a short period of time. Though there have been numerous studies linking music to improved cognitive function, especially for older adults, according to Ross, this study demonstrated the brain's ability to "rewire itself and compensate for injuries or diseases that may hamper a person's capacity to perform tasks."
Just listening to music did not have the same effect on the brain, which is why we offer music classes that introduce residents to a variety of musical instruments and teach them proper posture and positioning to play sounds on them. Our Music for the Mind programming encourages residents to try their hand at playing a tune on a recorder, ukulele, or percussion instrument, for example, while singing along with fellow residents in an uplifting, friendly, and supportive group setting. This type of engagement for the brain helps residents continue to communicate more clearly with their family and caregivers while providing a fun creative outlet for socialization, which has been shown to improve mood and boost self-confidence.
Art Classes
People living with Alzheimer's or dementia often experience anxiety, frustration, and sadness while coping with the complex emotions of living with memory loss. Art therapy has been shown to help relieve feelings of frustration, help soothe anxiety, and improve communication and self-expression. At The Cordwainer, we offer therapeutic art classes that allow residents to explore various art mediums such as paint, clay, fabric, and charcoal in different ways. The art classes provide a safe environment for residents to relax, explore their creativity, and express themselves in a way they may not be able to verbally. We also take residents to local art museums or host guest art speakers to provide insight into past and present art trends and processes while nurturing aesthetic sensitivity and cultural awareness.
Creating art helps residents stay focused and engaged with their surroundings. It also encourages collaboration and trying something new while keeping residents connected to their fellow residents and caregivers for a sense of belonging within the community.
Foreign Language Exploration
One of the best ways to maintain healthy cognitive function is to consistently challenge the brain with new experiences and stimulation. Learning a new language is one of the most successful ways to do that. Recent studies have shown that you are never too old to learn a new language, and that individuals living with Alzheimer's or dementia can greatly benefit from it. Our foreign language classes are fun, relaxed, fully immersible, and accessible to everyone. Residents learn about the countries where the language they are studying is spoken while practicing common greetings, counting, and vocabulary. Exploring a foreign language also encourages residents to challenge themselves in a supportive environment while boosting their self-confidence.
The Cordwainer is passionate about using alternative approaches to dementia care. Our programs are tailored to meet our residents where they are in their cognitive journey and help them stay as independent as possible and engaged with their surroundings in ways they and their loved ones may never have imagined possible.
If you would like to learn more about our The Learned Environment℠ curriculum and discuss how it might benefit your loved one with one of our dementia care experts please visit our website or call 781-544-2777.