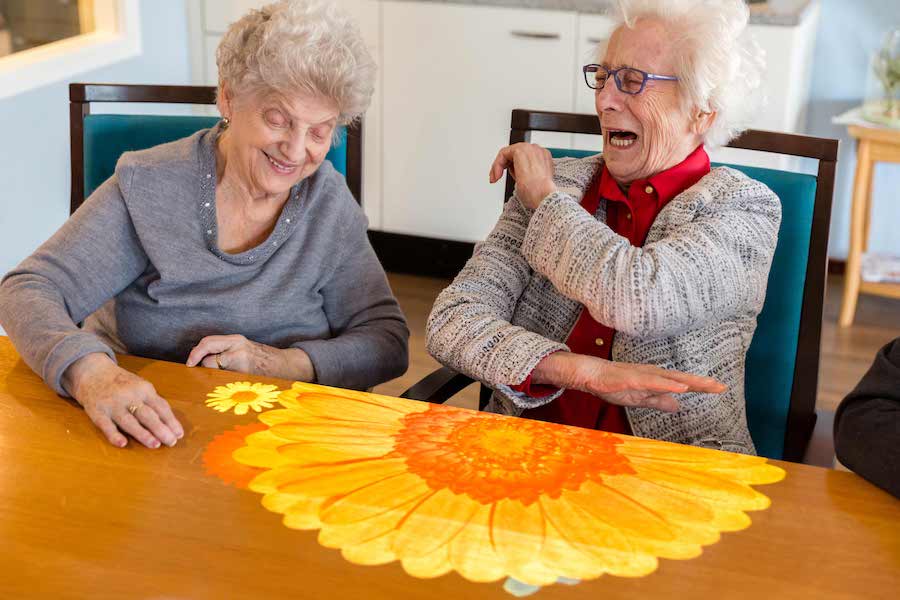 Dementia is the term used to describe the symptoms caused by a disease, and with more than 400 diseases causing dementia, it can be considered mysterious. However, thanks to innovation and technology a little "magic" can improve the lives of those living with it.
As an example, the Tovertafel gaming console is exciting technology for people living with Alzheimer's or other related dementias that creates an interactive environment to positively stimulate cognitive function. The Cordwainer is one of only a handful of dementia care communities in New England using the Tovertafel system, after discovering its use in Europe before it had been cleared for release in the U.S. It will be integrated into daily life with a goal of engaging residents and staff in a fun yet therapeutic manner.
Tovertafel is Dutch for "magic table" and the game console was developed by Tover, a Netherlands-based technology firm. The ceiling-mounted system projects a variety of multicolored virtual images onto a tabletop and uses infrared sensors to respond to the arm and hand movements of the people interacting with those images. The magic table games were designed specifically to stimulate the social, physical, and cognitive areas of the brain which can help slow-down the progression of dementia symptoms. Participants can try to catch a fish swimming by or pop virtual bubbles and accompanying sounds give the games a more immersive effect and engages multiple senses. The system even works well projected on the floor so players can, for example, use their feet to kick a virtual ball back and forth.
Do You Believe in Magic?
Dementia and Alzheimer's symptoms like depression, apathy and isolation can impact the health of the individual and diminish their quality of life. Dementia often makes it difficult to interact with others, but a Tovertafel gaming console encourages individuals to engage with their surroundings. They can interact with the game regardless of where they are with their dementia progression, and become immersed in the images, accompanying sounds and the many games the system offers.
Caregivers and family members benefit from the Tovertafel games too. Adult children and grandchildren can all engage with their loved one, creating a sense of community and bonding. Caregivers have an effective tool with the magic table to motivate someone whose dementia has caused them to withdraw into engaging. It is also effective for helping to calm anxiety with a fun distraction and gives restless hands, a common symptom of dementia, a purpose.
Because it is simple and easy to use, the Tovertafel can be enjoyed by anyone, and being able to participate in a group activity boosts confidence and self-esteem. The games have no set rules and users can improvise and interact with them any way they like. Participating also helps with focus, improves hand-eye coordination and the colorful images often invoke pleasant memories and inspire conversation.
Memory Care Reimagined
The Cordwainer's Tovertafel system offers benefits to our residents no matter where they are on their cognitive journey. Engaging in interactive games encourages residents to socialize with each other while having fun, helps relieve anxiety and invoke a sense of belonging by creating shared memories.  This system is part of our overall dementia care programming to invigorate residents, so they live meaningful lives surrounded by compassionate supportive caregivers trained in dementia best care practices.
If you have any questions about caring for a loved one with Alzheimer's or other related dementias, please reach out to The Cordwainer team at 781-544-2777 or at cordwainermemorycare.com.