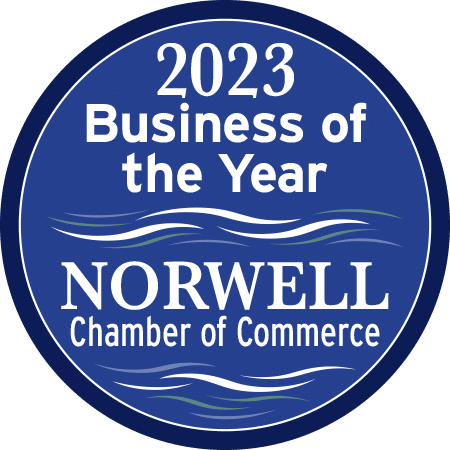 NORWELL — The Norwell Chamber of Commerce announced it has named The Cordwainer Memory Care Assisted Living the 2023 Business of the Year. Lisa Feldman, president of Norwell Chamber, made the announcement this month after an open process in which Norwell residents and businesses nominated a local business.
According to the Chamber, this award recognizes a business that contributes to the economic growth and quality of life in Norwell and whose practices and professional conduct contribute to a sense of cooperation within the entire business community. Specific criteria considered for this award included a successful marketing or business strategy, growth opportunities, community involvement and exceptional customer service.
The Cordwainer, developed by Anthemion Senior Lifestyles, opened in December at 555 Cordwainer Drive. The community includes 54 suites for residents living with dementia and features unique and innovative programming, "The Learned Environment℠," designed to stimulate the brain and foster learning through music, art, and foreign language exploration. The Cordwainer is the first U.S. memory care community to incorporate the Tovertafel, an innovative light projection system created for seniors living with dementia that is proven to be beneficial for physical, cognitive, social, and sensory well-being.
"We are grateful for being awarded this exceptional honor which we share with all members of our outstanding team. We are here to prove life in a memory care residence is rich, fun, exciting and so worth living," said Founder Tamilyn Liesenfeld.
The Cordwainer was designed by The Architectural Team of Chelsea, Mass. The community employs almost 40 staff and is situated in a wooded area of Norwell that takes advantage of natural features that offer a calming environment.
"A family-owned and operated memory care assisted living community, The Cordwainer brings jobs and a beautiful facility to Norwell with a team that has been active in community building since before construction was completed," said Feldman.
An event to celebrate the Business of the Year as well as Citizen of the Year is being organized by the Chamber.
About The Cordwainer
For more information, visit www.cordwainermemorycare.com.