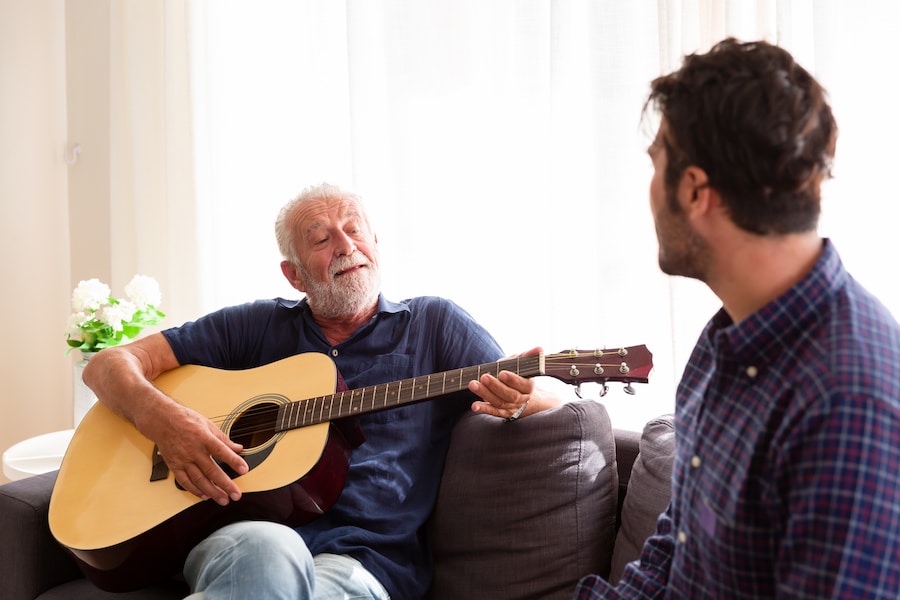 At The Cordwainer, we are a strong proponent of music therapy as part of a curriculum for individuals living with Alzheimer's and other dementia. A recent Washington Post article, "Why Music Causes Memories to Flood Back," caught our eye and we wanted to share the author's key points.
Hearing music can stimulate vivid memories and provoke intense emotions much more than the other senses of sight, taste, and smell. Dr. Andrew Budson, a professor of neurology at Boston University and guest speaker at The Cordwainer who contributed to the article, says music's effect on the brain lies in understanding the way the brain stores memories.
Episodic or explicit memory originates in the hippocampus region of the brain and is what we use to recall factual information and our day-to-day experiences like what we ate for dinner last night. Alzheimer's disease attacks the hippocampus first.
When a person creates music, the brain stores that experience as a procedural memory, which is the unconscious ability to remember how to do things like tie a shoe or brush your teeth, for example. These memories are stored differently by the brain and over time become what is known as consolidated memories which are linked together independently of the hippocampus and can be retrieved even as Alzheimer's destroys it.
Another key point in the article is research that suggests music causes the secretion of dopamine, the chemical that stimulates the brain's reward and pleasure center. Music has also been shown to reduce the stress hormone cortisol and increase levels of oxytocin, the hormone that stimulates feelings of trust and helps us form bonds with others. Because music affects so many different parts of the brain it can help ease anxiety and agitation, common symptoms of Alzheimer's and dementia. This is prompting research into using music therapy as a way of reducing the need for sedatives or anti-depressants to regulate mood and behavior.
The Learned Environment℠ — our curriculum involving art, music and foreign language — engages residents by teaching them to play an instrument like a guitar or a recorder and with sing-alongs and musical performances to create what researchers call a "time machine" effect, something we are all familiar with. Most everyone has heard a song or music that invokes memories of a certain person or of a particularly significant time in their life like their college days, wedding, or another celebratory event.
At The Cordwainer we stay knowledgeable about the latest research and treatments for those living with Alzheimer's or dementia and incorporate them into creating the best quality of life possible for our residents. You can read the entire Washington Post article here and if you would like to learn more about current research on cognitive loss please visit our website's Expert Corner page, join our support group, or attend one of the many free events we host in the community.