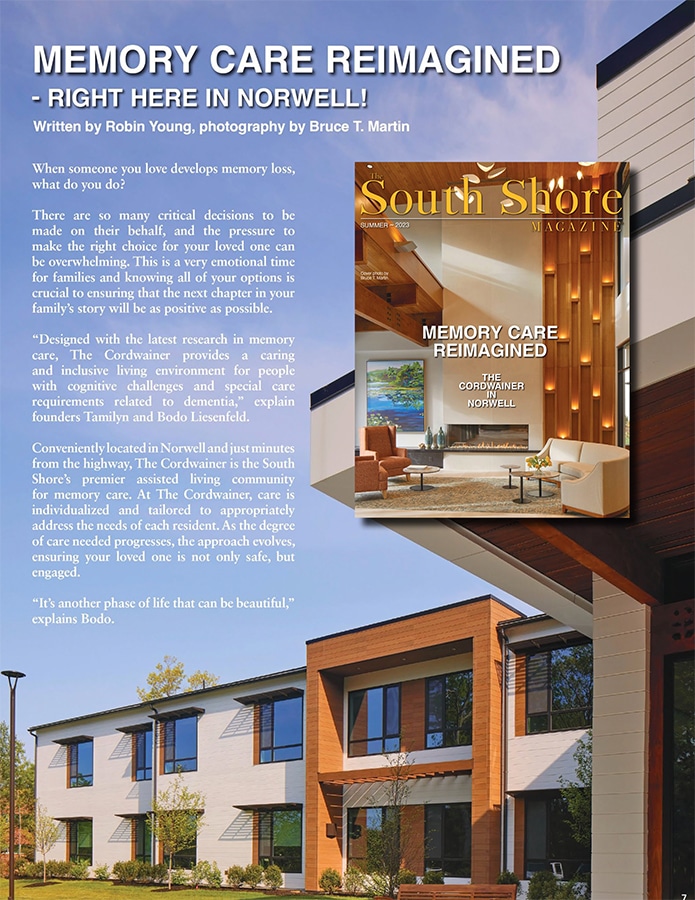 The Cordwainer, a 54-suite Memory Care Assisted Living community located in Norwell, was featured on the cover of The South Shore Magazine this summer. Since 2000, The South Shore Magazine has covered businesses and organizations that make up the fabric of the South Shore community. It is mailed to more than 15,000 households and distributed in markets and other public locations.
In the article, Founders Tamilyn and Bodo Liesenfeld said: "Designed with the latest research in memory care, The Cordwainer provides a caring and inclusive living environment for people with cognitive challenges and special care requirements related to dementia. It's another phase of life that can be beautiful."
This featured article follows on the heels of The Cordwainer being named Business of the Year by the Norwell Chamber of Commerce in the spring.
"While we have been open for less than a year, we are pleased with the notoriety we have received from the community, health care professionals and local families for our unique approach to caring for individuals living with dementia," said Maria Lastoria, the community's executive director.
The Cordwainer, developed by Anthemion Senior Lifestyles, opened in December at 555 Cordwainer Drive. The community includes 54 suites for residents living with dementia and features unique and innovative programming, "The Learned Environment℠," designed to stimulate the brain and foster learning through music, art, and foreign language exploration. The Cordwainer is the first U.S. memory care community to incorporate the Tovertafel, an innovative light projection system created for seniors living with dementia that is proven to be beneficial for physical, cognitive, social, and sensory well-being.