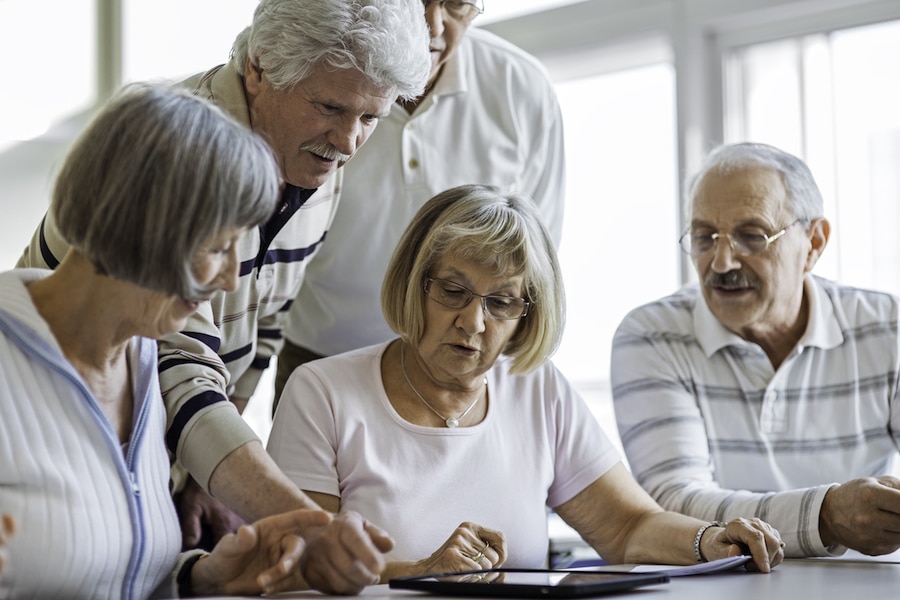 At The Cordwainer we are reimagining memory care for individuals living with dementia by offering programs including foreign language activities for residents. Our The Learned Environment℠ programming helps residents continue to live full, meaningful lives regardless of where they are on their cognitive journey. Foreign language activities have been shown to slow down memory loss and enhance the well-being of older adults living with dementia by strengthening their ongoing ability to communicate with caregivers and their families, even as their dementia symptoms progress.
It is well-documented that being bilingual (fluent in more than one language) from early childhood can delay the onset of dementia symptoms. While this is good news for ongoing dementia research, it has created two common misconceptions about learning a second language as an older adult. The first misconception is that studying a foreign language without the intent to become fully fluent does not offer the same benefits as being bilingual. The second misconception is that learning a new language is too challenging for older adults. However, recent studies like those cited by Frontiers In Aging Neuroscience revealed that older adults, even those with memory loss, are fully capable of learning a new language and greatly benefit from the social interaction and mental stimulation. According to a research article published in The Guardian, people living with dementia who began studying a foreign language showed almost immediate improvement in verbal fluency, being able to stay focused on their surroundings, and switching between tasks more fluidly.
The Cordwainer was one of the first memory care assisted living communities in the U.S. to partner with Scotland-based Lingo Flamingo, a company that designs language studies software used widely in senior care communities across Europe. Lingo Flamingo's classes are specifically designed for individuals living with cognitive impairment to stimulate the brain and strengthen participants' verbal skills. Communication challenges are a common side effect of dementia and Alzheimer's and can lead to frustration and social isolation. Lingo Flamingo programs boost residents' confidence in their ability to express themselves while creating connections between learners, stimulating the mind, and offering them something new and exciting to engage in. The Cordwainer has adapted the curriculum for residents so daily activities incorporate the use of foreign language phrases and words.
When you are searching for memory care it is important to choose a community with dementia care experts. In doing so, you gain access to a knowledgeable team up to date on the latest research and tools to help people with memory loss to live fully. We provide activities like language classes to help residents strengthen their communication skills to reduce anxiety and stress and keep them engaged with their families and caregivers.
To learn more about the way we can help your loved one maintain the highest quality of life possible please call 781-871-5550 to talk to one of our memory care experts or visit our website.